MUNDAKAKO TALDEA SURF CLASSES OFFERED THEORY AND PRACTICE THIS SPORT TO SCHOOL STUDENTS IN THE TOWN
A report by I. Fradua and published in Deia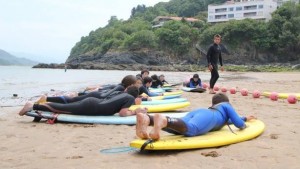 CONOCEN de sobra que su localidad guarda un valioso tesoro natural para la práctica del surf. Lo ven a diario. La gran mayoría, sin embargo, jamás había probado lo que es deslizarse sobre una tabla hasta ayer mismo. Mundaka Surf Taldea ha organizado un cursillo durante este mes para el alumnado de la escuela local, con el propósito de que la práctica de este deporte pueda extenderse en una anteiglesia que respira su ola por los cuatro costados, pero que en ocasiones no alcanza a los habitantes más jóvenes.
Con años de experiencia impartiendo cursillos veraniegos a centenares de menores, en esta ocasión Mundaka Surf Taldea ha optado por saltar a las aulas. Y la escuela de Mundaka, por trasladar sus clases a la playa de Laidatxu, neopreno y tabla incluidos. Una decena de niños de Primaria recibieron ayer una clase práctica y básica de surf de dos horas, si bien anteayer -y durante otras dos horas- habían recibido instrucciones teóricas sobre el comportamiento de las olas y el mar, las mareas en la bocana de la ría o las medidas de seguridad para la práctica sin riesgos de un deporte "que conocen, pero que no han practicado", apuntaron desde el club. "Tratamos de que se acerquen al surf y lo conozcan". Los menores tienen al lado de casa una ola izquierda de talla mundial, "así que tratamos de que sepan como manejarse".
It is in the gym hours when students have attended class surfing, putting into practice what they learned in the classroom through a 15-page guide. Not only they are acquiring basic notions informative, if not that some common materials have been adapted to meet, for example, how the wave of Mundaka works. The next meetings will be during the third week of this month.
Destined to continue for the next course may even get to enjoy the waves on the beach of Laida, Mundaka Surf Taldea has done its job. "Although not all become fond of surfing, then at least they were able to learn something about their immediate environment," they said.
Read more on news Deia