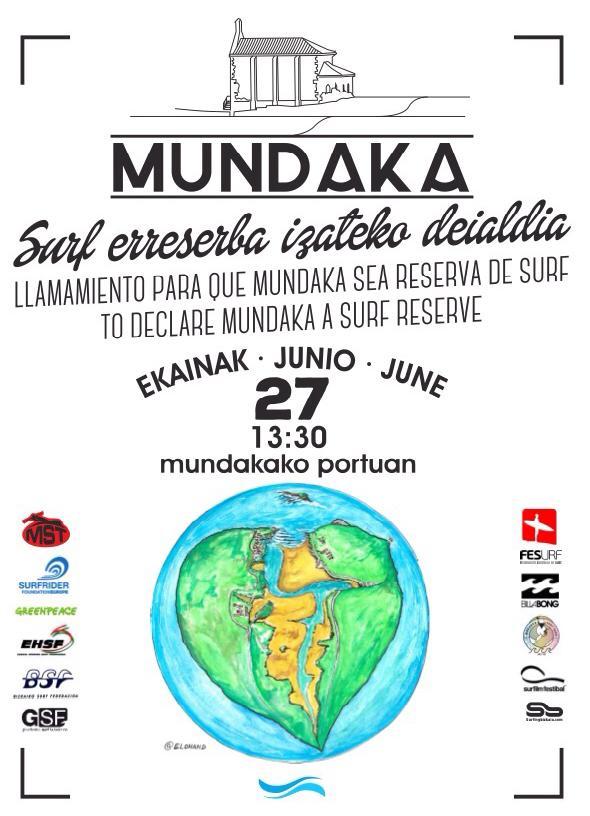 Surf Spotak ondare, baliade natural eta kultural moduan babesteko garrantzia aldarrikatzeko deialdi baketzua antolatu du Mundakako Surf Taldeak. Surfa eta natura era berean ulertzen badituzu, lagundu iezaiguzu Mundaka SURF ERRESERBA bihurtzen deialdian parte hartuz. Mundakako portuan, Surf Taldeko instalazioen ondoan, Ekainak 27ko 13:30tan. Zure partaidetzarekin kontatzen dugu, zure surf tabla ekarri! Eskerrik asko!
Desde Mundakako Surf Taldea hemos puesto en marcha una iniciativa pacífica, que pretende concienciar a la sociedad sobre el valor y la necesidad de conservar las rompientes de surf como patrimonio, recurso natural y cultural. Si compartes esta manera de entender el surf y la naturaleza, ayúdanos a conseguir que Mundaka sea RESERVA DE SURF. Nos gustaría contar contigo el día 27 de junio a las 13.30h en el Puerto de Mundaka, junto a las instalaciones del Mundakako Surf Taldea. Ven con tu tabla, te esperamos! Gracias!
From Mundaka Surf Club we would like to present a peaceful initiative to raise awareness in our society about the value and importance to conserve nature and its surf break that is a natural resource and cultural heritage to mankind. If you share this understanding of nature and surfing, please come and help us reach our goal to declare Mundaka a SURFING RESERVE. We hope to count on your support on the 27th of June at 13:30 in the afternoon in the Port of Mundaka, right in front of the rowing club and Surf Club. We look forward to seeing you, and come with your surf board! Thank you!