MUNDAKAKO TALDEA SURF CLASSES OFFERED THEORY AND PRACTICE THIS SPORT TO SCHOOL STUDENTS IN THE TOWN
A report by I. Fradua and published in Deia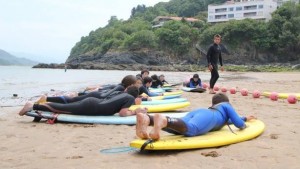 CONOCEN de sobra que su localidad guarda un valioso tesoro natural para la práctica del surf. Lo ven a diario. La gran mayoría, sin embargo, jamás había probado lo que es deslizarse sobre una tabla hasta ayer mismo. Mundaka Surf Taldea ha organizado un cursillo durante este mes para el alumnado de la escuela local, con el propósito de que la práctica de este deporte pueda extenderse en una anteiglesia que respira su ola por los cuatro costados, pero que en ocasiones no alcanza a los habitantes más jóvenes.
Con años de experiencia impartiendo cursillos veraniegos a centenares de menores, en esta ocasión Mundaka Surf Taldea ha optado por saltar a las aulas. Y la escuela de Mundaka, por trasladar sus clases a la playa de Laidatxu, neopreno y tabla incluidos. Una decena de niños de Primaria recibieron ayer una clase práctica y básica de surf de dos horas, si bien anteayer -y durante otras dos horas- habían recibido instrucciones teóricas sobre el comportamiento de las olas y el mar, las mareas en la bocana de la ría o las medidas de seguridad para la práctica sin riesgos de un deporte "que conocen, pero que no han practicado", apuntaron desde el club. "Tratamos de que se acerquen al surf y lo conozcan". Los menores tienen al lado de casa una ola izquierda de talla mundial, "así que tratamos de que sepan como manejarse".
Es en las horas de gimnasia cuando los estudiantes han acudido a clase de surf, poniendo en práctica lo aprendido en las aulas a través de una guía de 15 páginas. No solo se trata de que adquieran nociones informativas básicas, si no que algunas materias habituales se han adaptado para conocer, por ejemplo, cómo funciona la ola de Mundaka. Las próximas citas serán durante la tercera semana de este mes.
Con vocación de continuidad para el curso próximo pudiendo incluso entrar a disfrutar de las olas en la playa de Laida, Mundaka Surf Taldea ha cumplido su cometido. "Aunque no todos se aficionen al surf, al menos sí que han podido conocer algo sobre su entorno más cercano", apuntaron.
Leer mas en noticias Deia